SEMrush is an all-round tool that gives sneaky competitor analysis opportunities. It helps online business companies for improving online visibility. Online marketers have the advantage to discover marketing insights and can set up a powerful marketing strategy and prospect. If you are a digital marketer, novice or pro marketer, semrush is for you. Leveraging the tool, you can meditate on SEO, SMM, Keyword Research, PPC, Competitive Analysis, Content Marketing, Campaign Management, and more. In a word, this tool is one of the most essential guides for internet marketers.
In this content, we are going to take a very close look at the SEMrush that is a leading competitive analysis tool that many SEO professionals use for keyword research for website audits for keyword rankings. It helps how to define the most profitable keywords to target, link building opportunities, creating an SEO report for the clients.
To get the maximum idea of using all the features of SEMrush, you just have to pull up the tool signing up in the semrush website providing necessary information for semrush 30-day free trial so that you can practice operating semrush practically with this article.
Analysis of Competitors
SEMrush will empower you to competitive analysis. You will get an overview of what they are doing and not doing, what is working for them and not working, how many keywords got rank or lost rank, how many links they have built or lost, and many more. SEMrush is the only tool that will help you to assume your competitors' content marketing strategy. You can compare your marketing strategy to your competitors, find out your mistakes, and steps that you have to take for the future.
To do competitive analysis, first thing first, you have to go to SEMrush dashboard and enter the domain of your competitor into the search box.
For example here, we are putting down the URL of Huffingtonpost.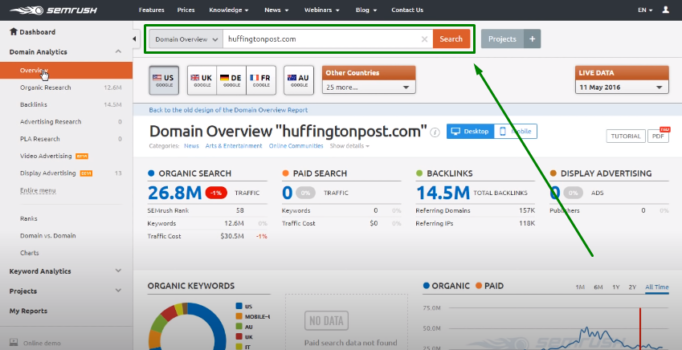 Go to Domain Analytics => Overview from the left bar.
Look at the above image; here you will get all the necessary information about your competitors. You will be able to get an idea of their organic search traffic, paid search traffic, backlinks, top anchors, paid display advertising, and more.
You will be able to know their top organic keywords, top paid keywords, organic positions, etc. You can know your top organic competitors, your organic positioning map, and branded traffic overview.
However, you can download data for future usage. Go up the right corner and download a pdf.
In the same way, you can get an overview of your website from SEMrush tool.
– writing continuing