If anyone who accesses to the internet for getting information, he may have used any web browser. A web browser is a door to enter into the information hub or client-server that provides relevant results for the user.
No matter which browser you use to get internet access, most of the browser has some common features. Most of them have a sync system for control your browser history, web appearances for customizable theme & bookmarks, no cookies for safe browsing, accessibility features to improve better experiences, and more.
Whatever, today I am going to list Top 20 internet browser for your Android & Computer by considering their performance, sync and security services, privacy and public policy, and also includes advanced features.

Chrome is the fastest web browser, but more secure, and simple than ever that you think before. It is a product from Google, the biggest tech giant of the world, to complete your search mission.
Chrome has everything that you need to have in one smart cross-platform to get better experiences. It has the number-1 powerful security service that automatically protects your device from dangerous sites. So, do everything with millions of extensions, and make your life joyful.
Pros:
Very productive & efficient
Optimized 100 Tabs at a time
Secure without sacrificing convenience to remember your every password
Get more out of the web with Google tools to other web planets
Goodbye annoying ads with Chrome's built-in ad blocker
You never have to think about security that Google provides
Cons:
Eats RAM a little. Without it, I personally don't observe any other difficulties in Google Chrome.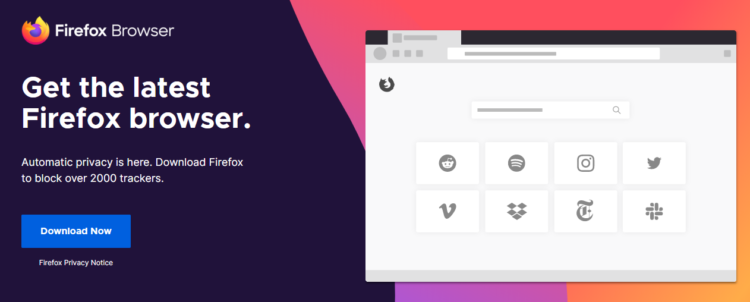 Mozilla Firefox is a free web browser for Microsoft Windows, Linux, Android, macOS, and more developed by Mozilla Corporation. It seriously concerns about your private browsing security, for that it automatically blocks 2000+ online trackers from collecting information.
Firefox offers its users to go beyond slow search-results, and enjoy the best immersive content from everywhere. Besides, it has a lot of great features including, the largest add-ons libraries, Lockwise security protections, dark modes, and more customizable options.
Pros:
Fast & Attractive design
Enhanced Tracking Protection from hackers or data trackers
Firefox Lockwise passwords portability
Watch which company website seeks your information via Firefox Monitor
Large data-mining vendors
Supports developer tools and other standard tools
Cons:
Some Integrated Flash doesn't support
High RAM usage during low load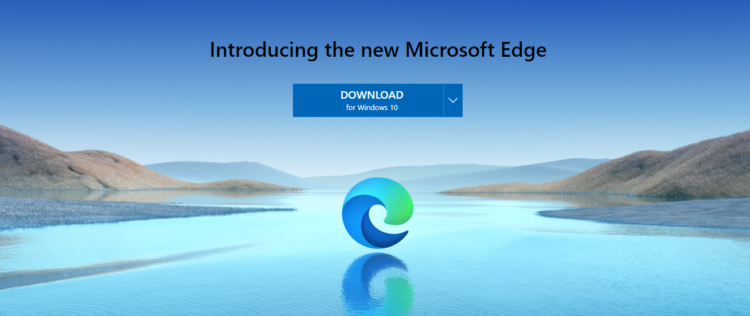 If you want to see the customizable and beautiful screen on your web browser when you open a new tab, then you may use Microsoft Edge. It offers you to select any layout that would be focused, Inspirational, or Informational, whatever you want to style.
Microsoft Edge renders a world-class performance that is more privacy-centric, more productive, and more valuable. Now, it is available on all platforms such as Windows, macOS, iOS, and Android. And, also its three levels Privacy Police promises your safe searching experiences.
Pros:
Integrated with Office 365
New Tracking Prevention and InPrivate mode
Microsoft Defender SmartScreen to protect you online from security issues, phishing schemes, and malicious software
Experience 4K streaming
Customize with large extensions library
Cons:
4K Ultra HD exclusivity is limited to old version PC & only available on 7th Gen Intel® Core™ processor or higher devices
Some advanced features cost extra fees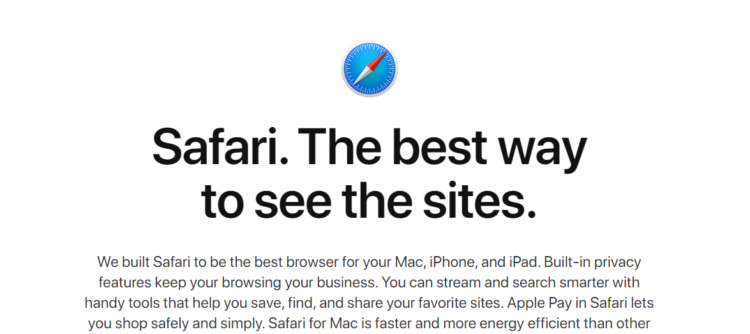 The best technology company, Apple developed a graphical web browser called Safari based on the WebKit engine. The company built it to be the best browser for the Mac, iPhone, and iPad users, but now it is also available for Windows.
With Safari's built-in privacy, you can search and stream smarter than ever. Including Fingerprinting defense, Sandbox safeguard, and Intelligent Tracking Prevention works for defending your online privacy and security. So, it can be a great chance to browse with the trust of Apple.
Pros:                                                       
The best browsing experience
Graphical web interface & updated start page
Fingerprinting, Intelligent Tracking, & Sandbox technology for secure search
For Private Browsing, no needs other apps installation
Surf seamlessly across all your devices
Cons:
Pretty clunky internet browser
May need an Apple ID to sign in to Safari for accessing to your bookmarks, favorite websites, and passwords
Some critics noticed the failure to adopt modern standards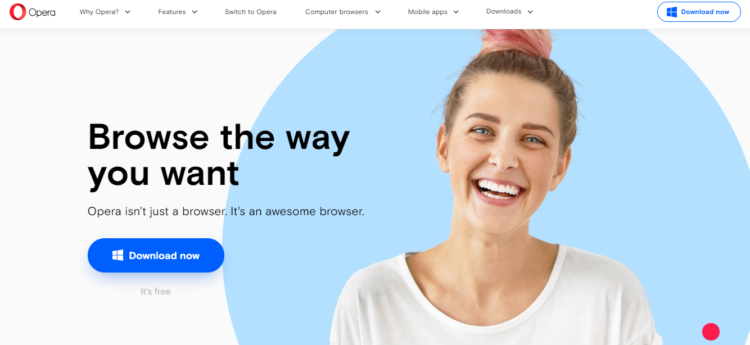 I can recall accurately the name of the browser that I used to access the internet for my first search. It was Opera Mini that's strongly related to my childhood surfing memory. Sorry to bother you, let's look at the main factors.
Opera is not only a single browser but also an awesome browser for millions of internet users. Here on this platform, you can browse faster by costing low data packs. It offers a free VPN browsing option for preventing online tracking. Additionally, its built-in messenger helps you to chat with your friend without switching tabs.
Pros:
Browse comfortably with advanced privacy, and security for free.
Has Battery saver, Adblocker, Free VPN, Integrated messengers, Snapshot tools, and more
Opera Flow for instant files and links sharing
Video pop-out for floating on any webpage with your favorite songs
Its Crypto wallet ensures your online payments secure
Browse in your own language
Available for Microsoft Windows, Android, iOS, macOS, and Linux operating system
Cons:
User-friendly, but there are some lacking of graphic interface
No more Opera Turbo
Free VPN works only unblocking websites, not much secure. So, be the concern of it.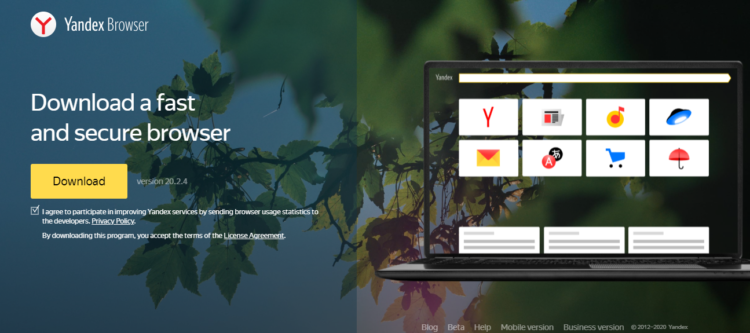 Yandex is the most secure open-source web browser for Windows, macOS, iOS, Android, and Linux – a home town search engine of Russia. It uses the Yandex security system for checking web pages securities and also checks downloaded files by using Kaspersky anti-virus. So, here you may avoid the headache of crushing your pc.
Moreover, Yandex also uses Turbo technology from Opera software to ensure your fast browsing speeds.
Pros:
Extremely easy to use
Browse with nine languages, intuitive Smartbox a-la awesome bar, and the equivalent Chrome search
Integrated keyboard layout switcher
Get security alerts from the best antivirus brand, Kaspersky anti-virus
DNSCrypt technology for defending from hackers, the internet provides, and online trackers
Use Turbo web speed tasting services & extensions from the Opera
Cons:
A needlessly complicated and mildly inferior version of Chrome
Needs to develop more for international users
7.Brave
Brave is totally free to use. You won't have to pay either money or your personal information to surf on your favorite websites. Its shield protects your passwords, banks Info, your personal search, and more from the dark internet.
Browsing is fast here because of loading pages 3x to 6x faster than other browsers. Recently Brave supports chrome web store to offer most of the chrome extensions so that its user gets more things done.
Pros
The privacy-focused browser & browse at warp speed
Unparalleled privacy and security & browse much more privately with Tor
Get Brave Rewards like BAT (Basic Attention Token) for viewing privacy-respecting ads and help fund the content you love
Sync your devices bravely
Supports for Chrome extensions
Available on Windows, Linux, macOS, Android, and iOS
Cons
Some restrictions for outside of the United States
Frowned upon to stick your own ads in front of someone else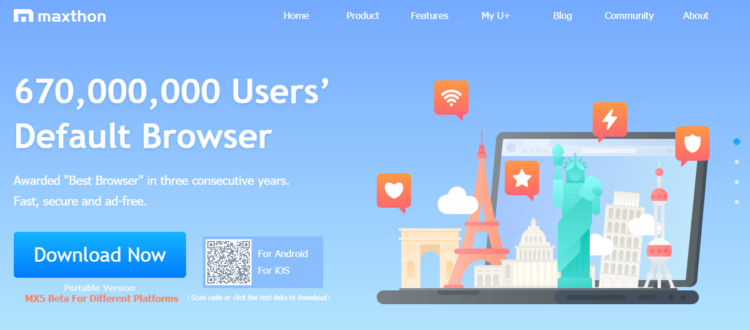 Maxthon is the fastest, more secure, and ad-free cloud browser for Windows, Android, iOS, macOS, PC, Mobile Phone, Mac, iPhone, and iPad. It is awarded "Best Browser" in three consecutive years with 670,000,000 Users around the world. The browser has multiple tools to provide the best services for new and old users.
Maxthon has Resource Sniffer for downloading Facebook and YouTube Videos without installing other apps or extensions. So, it would be better to remove your hassle of downloading favorite videos from the internet. Moreover, Maxthon is dedicated to its user a super surfing experience anywhere, anytime.
Pros:
Dual Rendering Engines (Webkit & Trident) for Super-Fast web page loading
High-performance cloud backup, file synchronization and sharing capabilities with advanced encryption to assure user data security
downloading videos smoothly on the web, and offline viewing at anytime
Incognito Mode for Private Browsing & fully cookies free
Fill Out Forms automatically
Handy external tools, shortcuts for commonly used Windows tools
Cons:
Password management and email spoofing in a slightly rough
SeaMonkey is an all-in-one online internet suite based on Mozilla source code and application suite. To be open-source software, it has a large number of traffics. Its Lightweight themes will give you a personal touch on how you want to see on your browser screen. SeaMonkey has many powerful features that provide almost infinite possibilities to extend your Internet experience.
Pros:
A better way to surf the net with Tabbed browsing window
Has unique Data Manager servers, Smart Location Bar, Feed detection & also Session restore
Including IRC Chat service ("ChatZilla"), HTML editor, Web Development Tools (DOM Inspector & JavaScript Debugger), etc.
SeaMonkey's Sync keeps your browsing history, passwords, bookmarks, preferences, and tabs securely
Popup blocker enables you to surf the web without interruption from annoying ads
Multi-language and multi-platform support
Cons:
The interface is clunky and dated
RAM-demand similar to other browsers

Torch's Drag and Drop feature uncovers a new idea of surfing on the web in an instant without wasting your valuable time. It is a Chromium-based web browser and Internet suite from the Torch Media Inc. It offers one-click solutions for the users, including super-fast downloading, streaming videos, instant switching tabs, and gaming experiences.
Torch Browser is an excellent and powerful browser for browsing and sharing. Here you can customize all the approaches that way you want to have in a browser. And, it is easy, and simple to use.
Pros:
Media Grabber for download streaming videos and audio in one-click
Built-in torrent manager for downloading torrent files simple, no need another software
Stunning player built into Torch Browser, and also has Torch free music player
Personalize your Facebook by changing the background, fonts, colors and more with Torch Facelift
Hundreds of games to play on Torch Games
Cons:
Ask Toolbarinstallation mandatory
Typos don't inspire confidence
Stability issues for opening Torrent and Music tools

Enjoy a faster, easier, and safer web surfing with Dolphin Browser.
It is the best mobile browser for Android and iOS that helps to explore the world smartly. It has Dual engines with Webkit and Dolphin Jetpack (based on Webkit) which makes it the best alternative for the Android platform and supports multi-touch gestures.
Dolphin Browser has a decent set of features, including flash support, incognito mode, HTML5 video player, and more. However, it offers users the best experiences than ever on mobile browsing.
Pros:
Multiple tabs for all-in-one browsing
Flash drive supported (Android only)
Simply swipe and go with customizable gestures
Easily share and sync links with Facebook, Evernote, Box, and more platform
Has Sonar for smart voice search
Tailor your experience with third-party add-ons library
Cons:
A little slow on startup
Can hang on the remote file system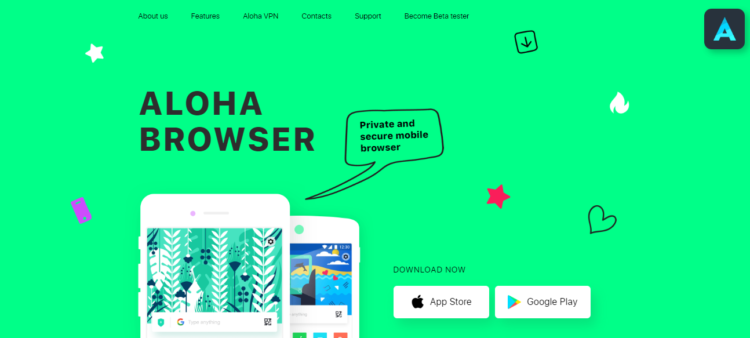 Aloha Browser is a private and secure mobile browser for Android, iPad, and iPhone. It offers unlimited VPN service to unblock any website with up to 2x times faster than other mobile browsers. So, it is definitely the best browser ever that makes your life easier.
Besides, Aloha ensures the security of your search by using both pin code and Touch ID. As a result, hackers or internet providers won't access you after trying countless times. That's why people have talked a lot about Aloha Browser.
Pros:
Easy to use. So, everyone can use it.
Browse faster like Rocket speed with an optimized rendering engine
Integrated with free unlimited VPN
No more intrusive ads
Full-featured media player with VR
Lock folders with passcode or fingerprint
Cons:
Terrible glitch on video player when a screen notification pops up
13. Chromium
Many of us are confused about the name Chrome and Chromium. Are they the same? Both of them are developed by Google, but they are really not the same. The first one is one the best web browser with advanced features, the other is an open-source project of google that has fewer features than Chrome. However, Chromium's fewer features make Google Chrome so grate.
Chromium's interface is lighter to use. It has built for a safer, faster, and more stable way of getting for better internet experiences. And, Chromium works surprisingly well.
Pros:
A quite intuitive and pleasurable to use
Separate processes for each window
Runs Zip Fill without any extraction
Has the Omnibar, the Task Manager, and incognito browsing options
Cons:
Updates require manually
No native Flash drive or media codecs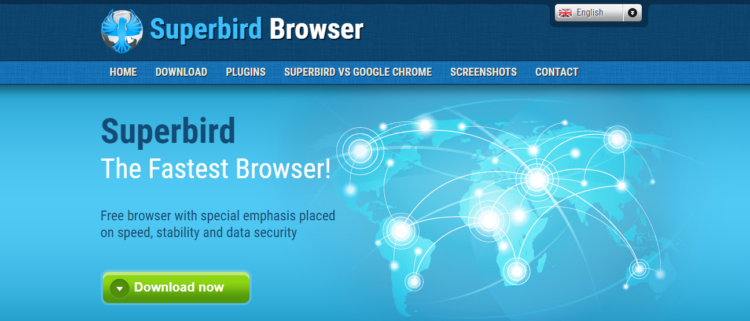 Superbird Browser is the fastest browser for free to use. By using Google Chrome source code, it is a distinct emphasis placed on speed, stability, and data security of searching on the web.
Superbird is the best alternative to Google Chrome. It has all the features that you have already tasted on the Chrome browser. As Superbird doesn't send any data to Google or other third parties, it gives unbelievable data security.
Pros:
Low Memory usage
Standard search privacy similar to DuckDuckGo
NSA/Prism safe & Improved Privacy
Auto-update functions
A lot of Plugins available
Cons:
Too much similar to Google Chrome
Very minimal distinguishing features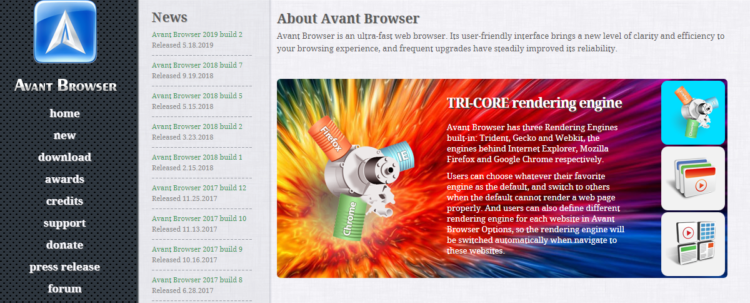 Avant Browser is an ultra-fast free web browser for computers developed by Anderson Che, a Chinese programmer. Its user-customizable tab interface offers the next level of web experiences that brings your search more authentic. Avant Browser has frequent updates to ensure the competence of the browser. With some nice built-in features, the satisfactory browser is remarkably useful.
Pros:
Crash-free internet browsing experience and high reliability
Real full-screen mode & alternative full desktop mode
No memory leak, but fast booster of the browsing speed
Anti-Freezing with Ajax Technology
Online bookmarks, gestures mode, AD/Popup blocker, & RSS Reader
Flash Animation Filter for downloading flash files with just one easy click
Cons:
The lack of extensibility and Vista problems
Only compatible with Windows computers

Puffin Browser is a magic cloud-based web browser that uses next-generation technology to safeguard your web browsing. It defeats you against threats like malware, ransomware, adware, and malicious links at bay. It also renders the thrilling experiences of web speed.
Puffin Browser is available for both PC and Mobile. It integrates cloud computing tech for lightning-fast browsing sessions with its vast number of features. So, Puffin can be an excellent choice.
Pros:
Incredible page load and rendering speed
Cloud Protection
Save up to 90% of your bandwidth with Puffin proprietary compression algorithm
Adobe Flash supported & Fastest JavaScript engine
Virtual trackpad and gamepad
Cons:
It requires subscriptions fees for Windows, but it is free for Android
Geo-restrictions for some countries such as China, Saudi Arabia, United &Arab Emirates (check before you install from the Puffin website)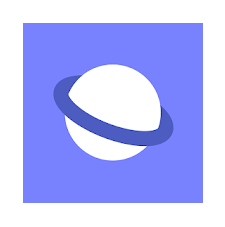 The Samsung Internet Browser is the first and trusted browser for Android and Tablet. Samsung Electronics developed the browser based on the open-source Chromium project. It offers the best performing browser advantages with the Galaxy Store.
Samsung Internet increases the usability of your slow internet connection. It brings more convenience to browsing with handy features like the Video assistant, Customizable menu, and Quick access. Also, the browser supports various devices like Samsung Smart TV and Gear VR platforms to pleasure you ever.
Pros:
The efficient way to browse
Gear VR and DeX integration technology
KNOX Supported&Video Assistant
Secret mode and biometric authentication features (unavailable in Knox-tripped devices)
Secure Web Auto Login, SPen, & Ultra Power Saving Mode
Cons: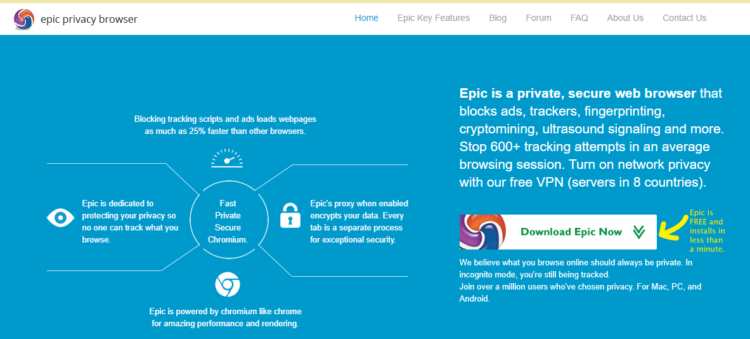 Epic is a privacy-centric web browser to secure your online search activity. It provides shields from any kind of tracking device or software or companies through various channels, including cookies, IP address, Flash cookies, HTML 5 storage, Fingerprinting, etc. So, there is no browsing speed down and breaking points.
Epic also provides full protection with the encrypted proxy, and ad-block extensions on. It has a free built-in VPN service to unblock websites where there were geo-restrictions.
Pros:
Dedicated to protecting your privacy
Based on Chromium source code and supports Windows 7 and later, and Mac OS X
Built-in proxy encryption 
No Data Abuse, no Ads, no spying
Network privacy with our free VPN
Download audio and video from YouTube, Facebook, Vimeo, Dailymotion, SoundCloud, and hundreds of other sites
Cons: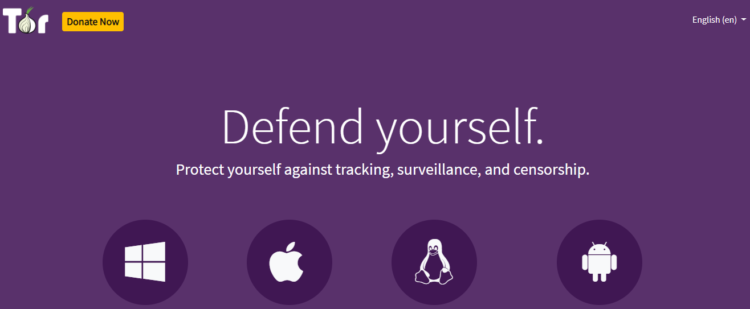 Tor is a free and open-source browser for defending yourself against tracking and surveillance. It offers the highest level of privacy protection at the time of your access to the internet. Besides, the browser isolates third-party trackers and ads so that you can enjoy hassle-free browsing.
Installing additional add-ons or plugins into the Tor Browser won't be good for you. It creates conflicts in your Tor's default privacy system. So, here is the lack of using the browser.
Pros:
Great for anonymous browsing
Simple interface, and easy to use
Real private browsing experience without tracking, surveillance, or censorship
Multi-layered encryption & Block trackers
Browse freely for Windows, OS X, Linux, and Android
Cons:
Inconsistent & slow speeds
Automatically starts Tor background
Plugins or add-ons don't work over Tor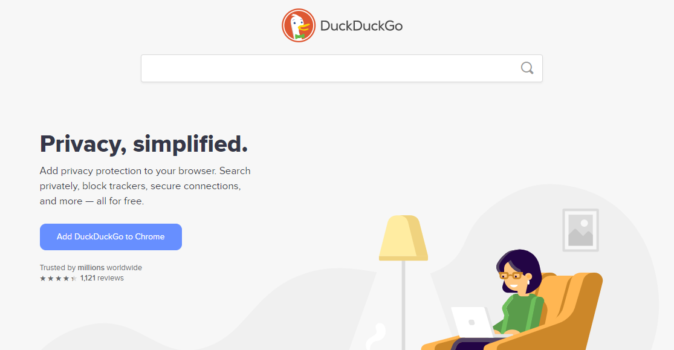 The Internet has no barrier, and it becomes more seamless when you connect your device with the DuckDuckGo browser. The browser offers to take control over any single time of web access, no matter which sites you are browsing. It takes back your personal data and protects it from the dark internet.
DuckDuckGo also controls to block annoying ads and keeps your search history private. So, stop worrying and enjoy fast browsing experiences.
Pros:
Escape Advertising Tracker Networks
Encrypted Protection
Search privately, even DuckDuckGo browser won't track you
Standard functionality of browsing including tabs, bookmarks and autocomplete
Available for Smartphone, iPhone, and Windows
Cons:
That's all about the top 20th internet browser. Enjoy surfing with the best experiences. Keep smiling and stay with Cloud School Pro.