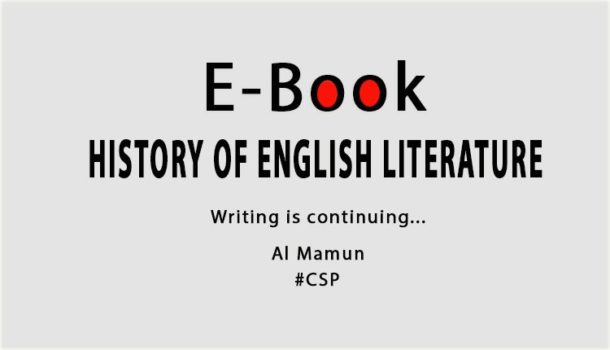 Characteristics of All the Ages of History of English Literature
#CSP #CloudSchoolPro
———0——–
Old English or Anglo-Saxon literature (450–1066)
Features of the Age: Stories of battles, Heroic poetry, Christian variety, Celebration of the warrior, revenge, fate, fame, Christianity, the adventurer and conqueror, alliteration, elegiac Religious writings, Chronicles, Epic, Love poem, riddles, fables, magic and medical texts, annals, prose by anonymous, kennings, Oral stories, Good vs. evil, the power of the underdog, bravery, the service of a higher power, separation of man from his comrades in death, desire to brag or boast, conquests and achievements, stories of daring or adventure, ethnic background, hymns and sermons, Ubi-Sunttopos (the feeling of loss), Germanic language, national epic, horror theme, and more.
Writings: The Anglo-Saxon Chronicle, Beowulf, The Wanderer, The Wife's Lament, Wulf and Eadwacer, Historia Ecclesiastica di Gentis Anglorum, and more.
Writers: King Alfred, Beowulf, Venerable Bede, Caedmon
[Anglo-Norman Period (1066-1350)]
Middle English literature (1066–1500)
Features of the Age: Anonymous, imitative, religious, didactic, oral literature, Domination of Poetry, Romances, development of rhymed meters, development of lyric poetry, Chivalry, Courtly Love, faith, Christianity, mythology, allegory, political, Anticlerical, reference, beast fable, epic, and more.
Chaucerian Age (1350-1400)
Features of the Age: Political unrest, Hundred year's war, English Chivalry, Black Death, Peasants' Revolt, Wages of labors, Corruption of churches, Language and spirit get a new height, Translation of the Bible, Modern test in English literature, Romantic love, Characterization, Rural life in literature, Religious and moral theme, Humor in writings, Important Literature and writers, and more.
Revival of Learning (1400-1550)
English Renaissance (1500–1660)
Features of the Age: Theatre, Mythology & classical tradition, the revival of learning, Humanism, religion, politics, magic, Queen Elizabeth, science, math, technology, exploration, rise of merchant class, reformation, prose & reason, Sonnet, Rhetoric, satire & allegory, Morality, supernatural beliefs, Love, Humor, Drama, Tragic-comic elements, characterization, epic writing, monarchism, metaphysical elements, patriotism, music, art, spirit of Individualism and Materialism, Spirit of Adventure, and more.
Writers: John Donne, John Milton, Edmund Spenser, Christopher Marlowe, Sidney, Johson, and more.
Elizabethan period (1558–1603)
Jacobean period (1603–1625)
Late Renaissance (1625–1660)
Puritan Age (1620–1660)
Neo-Classical Age (1660-1798)
Features of the Age: Rationalism, Scholarly allusion, Didacticism, Realism, Strict Classical rule, Unities, Heroic couplet, Objectivity, Diction, Parody, Essay, Satire, Fables, Melodrama, Letters, Diaries, Novels, and more.
18th century Age
Restoration Age (1660–1700)
Augustan Age (1700-1750)
The Age of Johnson/Sensibility (1750-1798)
Writers: John Dryden, Alexander Pope, Samuel Johnson, Jonathan Swifts, Daniel Defoe, T.S. Eliot, John Milton, and more.
Romanticism (1798–1837)
Features of the Age: High imagination, Love for nature, Symbolism, Meditation on Human Soul, Primitivism or spontaneity, Interest in the remote or love for the past, Simplicity in expression, Revolutionary zeal, Individualism, Supernaturalism, Subjectivity, Medievalism, love for beauty, escapism, Love for freedom and liberty, Predominance of lyricism, and more.
Writers: William Blake, William Wordsworth, S. T. Coleridge, Lord Byron, P. B. Shelley, John Keats, and more.
Victorian literature (1837–1901)
Features of the Age: Serialization, Science vs. Religion, Progress, Nostalgia, The Woman Question, Utilitarianism, Victorian Realism, Victorian Compromise, Agnosticism, Morality, New Education, Revolt, Industrial revolution, Intellectual development, Political and diplomatic history, Economy/industry and trade, Technology/science and engineering, Population, High culture, The middle class, Housing, Poverty, Child labor, Morality, and more.
Writers: Matthew Arnold, Christina Rossetti, Joseph Conrad, Robert Browning, Sir Arthur Conan Doyle, Elizabeth Barrett Browning, Charles Dickens, George Eliot, Elizabeth Gaskell, Richard Jefferies, Thomas Hardy, A. E. Housman, Rudyard Kipling, Alfred Lord Tennyson, William Thackeray, George MacDonald, G.M. Hopkins, Oscar Wilde, and more.
20th century (1901-2000)
Features of the Age: Realism, Love for Romance, Frank in Sexual Matters, Stream of Consciousness Technique, Novel of Ideas, Variety of Themes, Love, Pessimism, Doubt and confusion, Romantic Elements, Nature, Humanitarian and Democratic Note, Religion and Mysticism, Diction and Style, War and Patriotism, Globalization, Development of Science and technology, Capitalism, and more.
Modernism (1901-1939)
Features of Modern age: Individualism, Experimentation, Symbolism, Formalism, Developments in the field of science, literature, art, politics, warfare, technology, etc., Age of globalization and discovery, The rise of European powers and their dominance over colonial powers., Freedom to write in any structure, Realism, Play of Ideas, Romanticism, Poetic Plays, History and Biographical Plays, Irish Movement, Comedy of Manners, Impressionism, Expressionism, Foreign influences, Influence of radio and cinema
Post–modernism (1940–2000)
Writers: Virginia Woolf, T. S. Eliot, Joseph Conrad, D. H. Lawrence, Ezra Pound, E. M. Forster, Dylan Thomas, Ernest Hemingway, James Joyce, George Orwell, F. Scott Fitzgerald, William Faulkner, Franz Kafka, John Steinbeck, G B Shaw, W. B. Yeats, Aldous Huxley, and more.
Features of 20th century Poetry: Diversity of themes, Realism, Love, Pessimism, Self-conscious and disillusionment, Romantic elements, Symbolism, Nature, Humanism, Religion/ politics/ mysticism, Diction/ tone/ style/ hybrid structures, Fragmentation and meaninglessness, Industrialism and scientific development, Existential crisis, Doubt, Myths, Nostalgia, War and movements, Human sufferings, Personal imagery and allusions, Globalization and universalization, Nihilism, Sex and psychoanalytic, Interior monologue, Imagism/ objectivism/ Vorticism.
Features of 20th century Novel: Realism, Love for Romance, Frank in sexual matters, Stream of consciousness technique, Novel of ideas, Structure and perspective, Novel of city, Imperialism and colonialism, War and tension, Science and technology, Globalization and industrialization, Lack of family bonding/ fragmentation of relationship, Isolation, Frustration, Pessimism Vs. optimism, Humanism, Spirit for liberation, Anti-Aestheticism, Subjectivity vs. Objectivity, Feminism, Racism, Hyper-reality, Nihilism, Disillusionment, Religion and interrogation, Capitalism and communism, Psychological.
Features of 20th century Drama: Realism, Play of Ideas, Romanticism, Poetic Plays, History and Biographical Plays, Irish Movement, Comedy of Manners, Impressionism, Expressionism, Surrealism, Epic Theatre, Myth, Women Character , Political Theatre and War, Avant Garde Theatre, Absurdist Drama, Dadaism, Symbolism/Aestheticism,
—The End—
N. B. It is to notify you all that I will be writing the book continuously and more information will be added seamlessly.