15.6 inches Full HD IPS Display, AMD Ryzen 3 3200U, Vega 3 Graphics, 4GB DDR4, 128GB SSD, Backlit Keyboard, Windows 10 in S Mode, A515-43-R19L, Black
Acer Aspire 5 Ryzen 3 3200u is one of the best budget-friendly laptops that offer you numerous amazing features. If you are looking for a handy yet capable of the strong-performance for your basic and advanced tasks to get done, it may be the one for you. It is powerful, portable, premium-looking with high configuration.
Now have a look at the main features of Acer Aspire 5 Ryzen 3. I'm enlisting its key focusing points.
Read More: 13 Best Acer Laptop For The Graphic Designers
Does the configuration meet your requirements?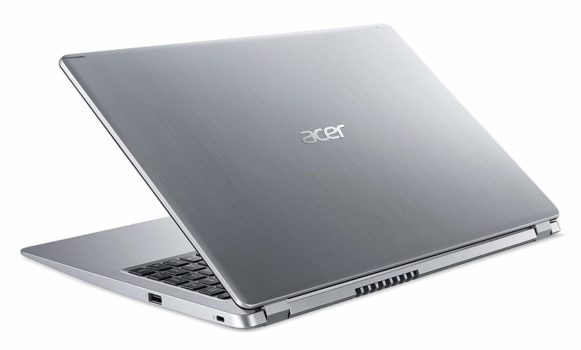 Well, Acer Aspire 5 Ryzen 3 3200u comes with AMD Ryzen 3 3200U Dual-Core Processor 2.6 GHz that can boost up to 3.5 GHz. You get the 8th gen core i5 processor. It has 4GB DDR4 RAM and 128 GB solid-state hard disk and pretty useful for both work and gaming. The preinstalled operating system is Windows 10. AMD Radeon Vega 3 graphics coprocessor is inbuilt in it.
Cool Design or cheap looking?
This model is not bulky and heavy like other low budget laptops. It is quite slim, sleek, durable and premium looking. It is ultra-lightweight with 3.97 lbs and 14.3 x 9.7 x 0.7 inches. You can freely travel with it. It looks sturdy and super stylish because of the aluminum lid on the top. You can lay it flat to adjust with your comfort.  It is great for everyday use whether you are a student or a professional.
What about Display?
The display is 15.6 inches full HD LED-backlit IPS screen. It comes with Acer Color Intelligence. The comfy view technology keeps your eyes strain-free so that you can work tirelessly all day long. The resolution of the display is 1920×1080. The screen is bright enough to enjoy your favorite movie or video games. The screen is matte, not glossy and it prevents reflection of external lights. Remember, It does not come with touch screen support.
How is the Keyboard?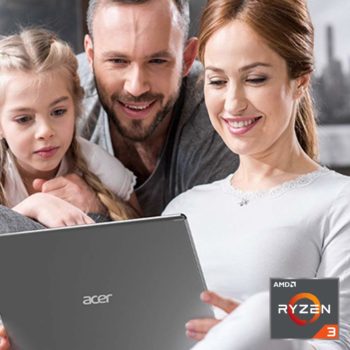 Aspire 5 Ryzen 3 has a backlit keyboard which is one of the great features of this model. It is quite convenient and flexible to use. Typing is super fast going with it. You get separate numeric keypad too in the keyboard though that is not full-sized. The keys make noise while typing.
Easy going Touchpad?
Below the keyboard, you get the touchpad. It is not that much standard as there is no left and right buttons. There is no built-in fingerprint reader. That means the entire touchpad is clickable and it is not so comfortable to use.
How good is the Speaker?
There is two built-in stereo speaker in this model. The audio quality is pretty good. It is loud and clear. You may feel a bit noisy sound when the volume is high.
How many Ports?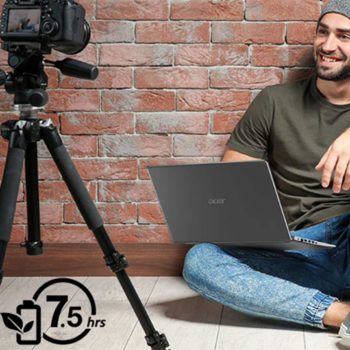 On the left side, there is 3 a single USB 3.0 Type-A port, a USB 2.0 port, full-size gigabit Ethernet, HDMI, and a combo audio jack with a barrel-shaped power port. On the right side, there is one USB 2.0 port with a laptop security slot. It is quite fair and convenient to work along with it.
Long-lasting Battery life?
Battery life is quite satisfying in Acer Aspire 5. You can use it for up to 7 hours while turning on the wifi. Though the battery life depends on how much heavy-duty works as gaming, online video streaming you do by it. A li-polymer battery of 4200 mAh has been used in it.
High performance or average?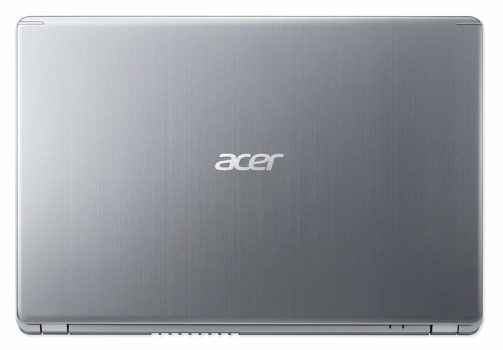 Considering the configurations, it is true that Acer Aspire 5 is pretty compatible with a low budget. It is powerful and easy to use. Though the 4GB RAM can seem to be not sufficient for many users, they can expand it up to 8 GB or 16GB. This model is excellent for basic works like browsing, sending the email, word processing and video conferencing. It is suitable for children, students, and regular users who do simplistic tasks. The processor is so fast and the graphics card is up to the mark. If you think of the budget, it is just more than enough. Overall, you can be super productive with it as you can use it everywhere you want.
Here comes the most awaited part. I have already told several times that it is budget-friendly. The price is $ 349. The price is considerable if you think of the configuration and features.
Pros and cons
Now take a quick look at its pros and cons
Pros:
slim design
premium looking
value for money
amazing battery life
excellent productivity
excellent display
flexible and convenient to use
Cons: 
You may question about the speaker, the keyboard, and USB- c port
Do we recommend it?
Of course, we recommend it if you are looking for a laptop at a reasonable price. It values every penny you pay. It is great for everyday home and office works. You can take it everywhere you go as it is super lightweight and sleek.
Our Rating?
 9 out of 10 from our side.