Author: Farhana Ema
If we consider young generation, everybody has at least one Facebook account where there is internet access.
We often are getting that older citizens are also trying to use Face book regarding its usability but it is common that some of them do not know how to sign up or open a facebook account. Although someone helps them to create a facebook account, they face problem at the time of log in and log out of that particular social media website.
Not only that for the beginners, same thing can happen. If you experience such an embarrassing situation with Facebook, follow the step by step guideline, hope you will find desired facebook solution of your problem.
Let's see first how to login
[If you would like to connect Facebook with computer, these following steps are for you.]
1. Since you already have an account, so first of all, you should open your preferred web browser. You can choose one out of many like Internet Explorer, Mozilla Firefox, Google chrome, Safari, Opera, Brave, etc.
2. In order to log in to facebook account, write www.facebook.com in the address bar of your browser.
3. At the upper right corner of this page, you will find log in field. Now enter your email address or phone number and password in the log in field.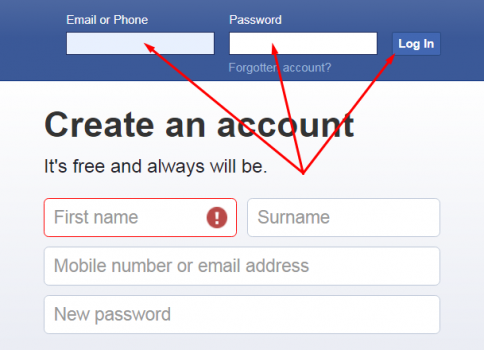 4. Click on "log in" button to get into your account. Once you click, you will see the facebook homepage if you enter correct email and password.
[If you want to connect Facebook with phone app, follow the steps respectively.]
1. To access into Facebook account from your phone, you need Facebook app for phone. Download Facebook app from Google play store or app store for iPhone.
2. Install the app in your cell phone and click on Facebook application icon. You will find a log in field here in the Facebook homepage.
3. Now enter your email address or phone number and password in the "log in" field.
4. Tap on log in button to go ahead.
How to Log out from facebook
Once you have signed in your fb account and you forgot or are not finding sign out button, or even do not know how to log out from your facebook account from computer, you can follow the instruction below.
1. Open your browser and go to Facebook.
2. As your account is already logged in so look at the top right corner of your computer screen, you will find a down arrow there.
3. Tap on that down arrow.
4. Look at the bottom of the drop down menu, you will find log out option, now tap on it to successfully log out from your account.
[If you need to log out facebook account from your Android phone, head over the following steps.]
1. Open the Facebook app on android phone.
2. Since you already logged in, look at the upper right corner. You will find a menu bar (the icon made of three horizontal lines).
3. Click on this menu.
4. Now scroll down. Log out option will appear before you.
5. Click on log out option. Now you are good to go.
According to facebook usage statistics June 2019, 1.59 billion internet users on average are logging onto Facebook daily. Among them, some are experiencing this type of silly facebook issues. This content will help you get rid of logging problem superbly.