4th Year Final Exam 2021, will be held this year-2022
[ Join CSP Online Private Classes | ফেসবুকে প্রাইভেট ]
@ জুমে লাইভ ক্লাস হয়।
@ ক্লাস রেকর্ড করে গ্রুপে শেয়ার করা হয়।
@ ভর্তি হলে আগের সব ক্লাস গ্রুপেই পাবে।
@ সপ্তাহে ৩ দিন ১ ঘণ্টা করে পড়ান হয়।
@ পেইড জুম সফটওয়্যার, তাই নিরবচ্ছিন ১ ঘণ্টা ক্লাস হয়
@ আইপিএস আছে, সো, বিদ্যুৎ যাওয়ার বা রেকর্ড ক্লাস হারিয়ে যাওয়ার ভয় নেই।
—0—
Part – C
Justify the title of the novel Heart of Darkness.
Analyze Conrad's use of symbols/narrative techniques in Heart of Darkness.
Comment on the treatment of Evil in the Heart of Darkness.
Write on the character and role of Marlow in Heart of Darkness
Explain the significance of the dying words of Kurtz! "The Horror, The Horror".
Discuss the use of symbols in A Passage to India.
Comment on the theme of cultural conflict/separation in A Passage to India.
Examine the Forster's depiction of the Anglo-Indian community in Chandrapore.
Comment on Character of Aziz/Aziz-Fielding relationship in A Passage to India.
Discuss the symbols in To the Lighthouse.
Discuss the character of Lily Brisco.
Critically analyze the significance of the journey To the Lighthouse.
Examine the aptness of the title To the Lighthouse.
Comment on the father's and son's relationship in sons and lovers.
Discuss the treatment of love and marriage in sons and lovers.
Why does Paul fail to achieve a meaningful relationship with either Miriam or Clara?
Comment on the tragic character of Walter Morel in Sons and Lovers.
Discuss The Grass is Singing is a story of a failed marriage.
How are the Black African treated in The Grass is Singing?
Comment on the significance of the title The Grass is Singing.
Discuss the theme of colonialism in The Grass is Singing.
—0—
Question of Previous Exam- 2020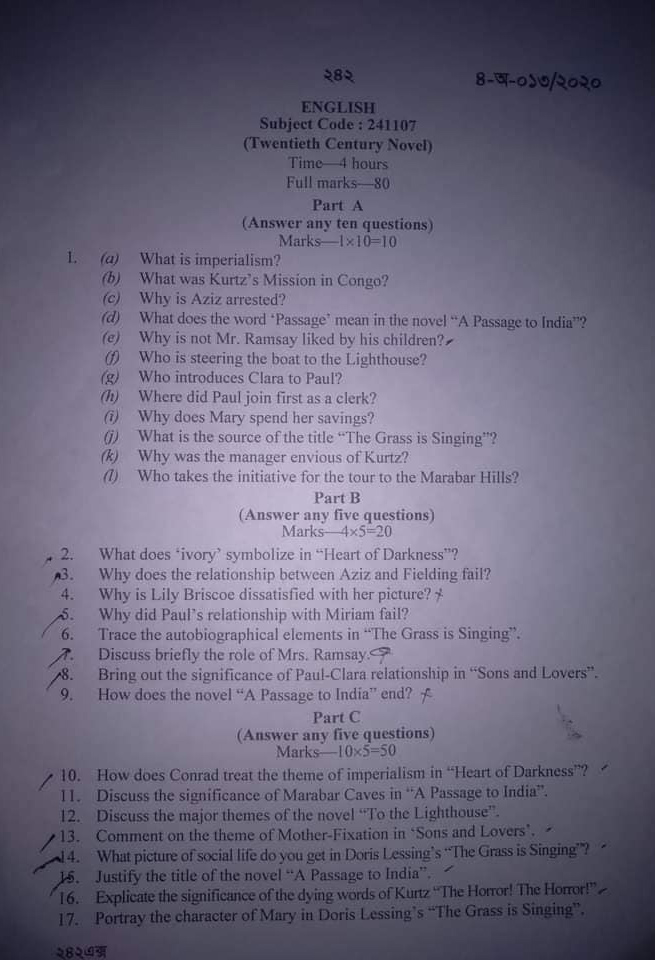 Previous Suggestion
For 4th year 2020
Justify the title of the novel Heart of Darkness.
Comment on the theme of imperialism in Heart of Darkness. [Common]
Comment on the treatment of Evil in the Heart of Darkness.
Discuss the significance of Marabar caves in A Passage to India. [Common]
Discuss the use of symbols in A Passage to India.
Justify the title A Passage to India. [Common]
Discuss the major themes of To the Lighthouse. [Common]
Discuss the symbols in To the Lighthouse.
Discuss Oedipus complex or mother-fixation in Sons and Lovers. [Common]
Comment on the father's and son's relationship in sons and lovers.
Discuss the treatment of love and marriage in sons and lovers.
Discuss the social pictures found in The Grass is Singing. [Common]
Sketch the character of Mary in The Grass is Singing. [Common]